Posted: Wednesday, November 08, 2017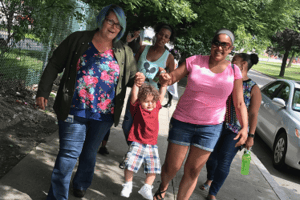 Over the years, Laura Aussant, RN at The Providence Center, has worked with a number of women enduring the struggles of motherhood. On top of these everyday struggles, these women have been diagnosed with mental health issues and/or history of drug abuse. Realizing these women needed more than just the routine check-ups they were currently receiving, Aussant decided it was time to create a program to improve expecting mothers' outlook on pregnancy and to help make daily life less of a challenge.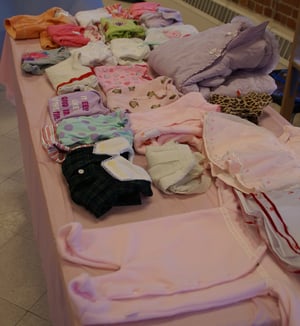 During December of 2015, Aussant and members of home visiting service Healthy Families America, worked to create Baby on Board, a program that would help both pregnant women and those with young children cope with the challenges of motherhood and gain the tools necessary to be successful parents. Baby on Board helps normalize pregnancy and allow women the opportunity to experience the joy of having a baby without feeling like they're alone.

"Around the time we started Baby on Board, Deb O'Brien (TPC President and COO) had actually just brought in a bunch of baby stuff that her neighbor was donating," said Aussant. "Originally, I was just going to just pass the items out to the women, but then thought 'why not have fun with this?' From there we decided to throw the women a baby shower that they likely wouldn't have had otherwise."

Aussant started a center-wide campaign asking TPC employees to donate items to the baby shower. The group was able to get furniture, clothes, diapers, and formula, among other items.

"We had a huge turnout," said Aussant. "It was really a testament to what this program could and would become."

Baby on Board meets once a week and is open to all women 18+ with mental health and/or substance use issues who are pregnant or already have children. The program provides help to group members with their finances, employment, housing, access to food, and other resources. Curriculum revolves around better understanding how children love and how they receive love as well as helping mothers understand how they themselves love and give love.

"We'll discuss things like 'what does discipline look like for you and your family now, and what would you like it to look like in the best case scenario?" said Aussant. "All of these lessons are tools they can use moving forward to build a more successful family – the family they want and envision for themselves."

Aussant also has Baby on Board members work on crafts together. For example, the women have made a number of child-safe toys such as rattles and water bottle shakers with glitter to aid in their developmental learning.

"There's not always a set agenda," said Aussant. "Sometimes something just happens and we end up learning from it. We've been trying to increase our community integration – we meet and do some core curriculum and then go to the park or take a trip somewhere."

These trips allow the women to try new activities with their children and stretch their comfort zones knowing they have people around to support them. Just recently, the group visited an apple orchard, and not long before that they went to the zoo and had a harvest party inside of an indoor pumpkin patch created by Aussant.

"Just getting out the door when you're a new mom can be anxiety provoking – thinking about all of the things that can go wrong – and then you add an anxiety disorder on top of it… it's a huge barrier," said Aussant. "Having a supportive group to take these leaps of faith with and knowing they have someone to help if help is needed teaches them that they have the power to do all of these great things on their own."
Since Baby on Board began, Aussant has been witness to many success stories. For example, women who lost custody of their older children who have since proven themselves capable mothers regaining or working toward regaining custody.

"I will admit, there have been stumbles," she said. "But, it's not about being perfect. It's about continuing to show up to meetings and work to prove that they are willing to learn as much as possible to become the best mothers they can be."

Continuously impressed by the hard work and commitment these mothers put in to better not only their own lives, but their children's' lives as well, Aussant is motivated to get the word out about Baby on Board and invites anyone who is interested in joining to learn more about the program.

To learn more about Baby on Board, contact Laura Aussant at LAussant@provctr.org