Posted: Wednesday, August 02, 2017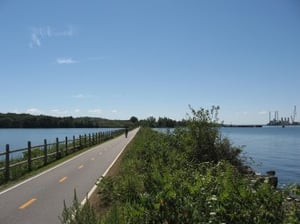 Did you know that spending just 15 minutes a day outside can reduce stress and increase levels of "feel good" hormones like dopamine? It's true. A combination of Vitamin D, natural light, and wildlife not only boosts your immune system, but can also improve your sense of well-being.

"Being in the great outdoors lends itself to mindfulness," says Lauren Mancini, Health Mentor Specialist for the Wellness Employment and Education department at TPC. "It helps clear your mind and increase focus on the present moment."

According to a review of research published in the journal Extreme Physiology & Medicine, engaging in physical activity outdoors provides opportunities linked to better health which is unavailable from indoor activity, such as exposure to sunlight for sufficient vitamin D levels. Additionally, outdoor activity shows greater improvements in mental health compared to indoor activity.

"Exposure to nature not only makes you feel better emotionally, it contributes to your physical health, reducing blood pressure, heart rate, muscle tension, and the production of stress hormones," added Mancini.

Here in Rhode Island, there's an abundance of outdoor activities available to take part in, and, a number of which are free. That's right – no cost at all.

We've put together a list of our favorite activities that will help you de-stress this summer among some of the most fascinating locations and events our little state has to offer.
East Bay Bike Path
This scenic, 14-mile paved rail-trail, is a great way to get out in nature and exercise. The East Bay Bike Path extends from Providence to Bristol with beautiful views of the Narragansett Bay, marinas, and marshes. Along the way, you'll have the option to stop and explore various parks and conservation areas that the trail weaves through. If it's a snack you crave, bring some cash and grab a lobster roll at Blount in Warren or East Providence.
Beavertail State Park
Located in Jamestown, this state park is known for its scenic views along New England's rocky coastline. Its main attraction is the active Beavertail Lighthouse which dates back to 1856. Beavertail provides some of the best saltwater fishing in Rhode Island, along with hiking trails and picnic areas. Whether you're exploring the tide pools for sea creatures or enjoying a book by the water, Beavertail provides the perfect setting to unwind and take in the fresh air.
Botanical Center at Roger Williams Park
With 12,000 square feet of indoor gardens, the Botanical Center at Roger Williams Park includes two greenhouses filled with plants, fountains, a fish pond and a small waterfall. It is the largest indoor garden open to the public in New England and is home to over 150 different plant species. The Botanical Center's calming atmosphere makes for a peaceful afternoon walk to let all of your troubles slip away, if only for a moment.
Newport Cliff Walk
Sometimes all you need in life is a nice view and a place to take a stroll. Newport's 3.5 mile cliff walk not only boasts spectacular views of the Atlantic Ocean, but also of famous mansions dating back to the late 19th century, also known as the Gilded Age. Much of the walkway runs along the properties on which these mansions are situated. While some choose to walk the entire path, others will opt to walk a section of it and then head over to Easton Beach for some fun in the sun. Whatever you choose, the cliff walk is sure to please!
Providence WaterFire
WaterFire is an independent, nonprofit arts organization whose mission is to inspire residents and visitors by revitalizing the urban experience, fostering community engagement and creatively transforming the city with lit fire pits throughout its canals. Walk along the waterways and enjoy some of Providence's best food trucks, craft shops, or live entertainment. If it's the water you fancy, hop on a gondola alongside friends and family for a tour of the city.

Interested? Here's the schedule for the remaining Waterfire events:
Saturday, August 5
Full Lighting – Sunset: 7:59 pm
Sunday, September 3
Full Lighting – Sunset: 7:15 pm
Saturday, September 23
Full Lighting – Sunset 6:41 pm
Saturday, September 30
Full Lighting – Sunset: 6:29 pm
Saturday, November 4
Full Lighting – Sunset: 5:36 pm

Whether it's a hike through the woods or a stroll through the city that you're seeking, Rhode Island offers countless ways to get out, enjoy the fresh air, and just live in the moment.

For a full list of things to do here in Rhode Island, visit: http://www.visitri.com/state/60-great-things-to-do-in-rhode-island/