Posted: Tuesday, December 05, 2017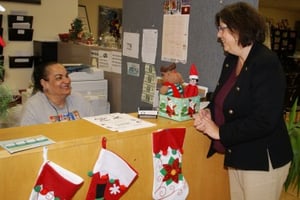 The Providence Center's Workforce Development and Anchor Recovery Community Center have recently started an apprenticeship program that helps Anchor employees advance their careers in the recovery field. The program stems from a national effort to support non-traditional job opportunities, and gives people in recovery a pathway to work to the top of their occupational fields.

The Recovery Support Career Ladder program takes approximately three years to complete and includes three major steps, the final of which is becoming a Certified Alcohol and Drug Abuse Counselor (CADC), the certification needed to become a Licensed Alcohol and Drug Counselor (LADC). The program helps applicants balance the demands of the curriculum and the necessary training hours, and each level comes with a salary increase.
Meeting A Community Need
It's no surprise that addiction treatment availability has not been able to keep pace with skyrocketing demand stemming from the country's addiction crisis. 2015 research published in the Journal of the American Medical Association found that between 2009 and 2013, only about 22% of individuals with opioid use disorders received treatment, and also found that many areas lack sufficient treatment options. Rates of substance use and overdose, and with it demand for LADCs, have only increased since then. The loss of manufacturing jobs in states like Rhode Island also means a greater need for alternatives to white-collar career tracks.

This career ladder stems from Care New England's involvement in the American Apprenticeship Initiative (AAI), a program of the U.S. Department of Labor (DOL) that provides funding to expand apprenticeships to non-trade industries. CNE has developed apprenticeship programs at Women and Infants Hospital to elevate medical coders to the top of their practice and to cross-train CNAs to Medical Assistants, allowing for more efficiency in the Obstetrics and Gynecology Care Center. The DOL grant provides funding for the exam fees and some of the classes necessary for the certifications.

The mission of TPC's Workforce Development is to promote and improve recruitment, sustainability, and staff's professional growth within the organization. "With this initiative we are supporting the growing demand for recovery professionals and giving our staff tools to help them reach their career goals," said Rosemary Mede, TPC's Chief Human Resource Officer.

Participants in the Anchor program can begin as volunteers, sometimes directly after release from the Department of Corrections. The first step is to achieve the Certified Peer Recovery Specialist (CPRS), or recovery coach designation, which requires 46 training certification hours and successful completion of an exam. This state-recognized certification, which the majority of Anchor employees currently have, allows people to provide recovery support services in a wide range of settings.

For the CADC requirements, the number of training and supervision hours depends on an individual's education level; someone with no college degree needs 6,000 hours (three years), while someone with a bachelor's degree needs only 4,000.
A Second Chance at Success
For people in recovery, the past is often a major barrier to employment. "Addiction has interrupted the ability of a lot of people to be successful in their careers," said Anchor's Director Deb Dettor. "The intention of this career ladder is to provide learning experiences that enable them to develop as professionals and to overcome discrimination, while strengthening their recovery over time. We know from experience that people in recovery can grow into fulfilling and happy lives," said Dettor.

The program was implemented with help from Apprenticeship RI, a non-profit that provides no-cost assistance to Rhode Island employers in developing apprenticeships and assistance in registering them with the state. They believe this is the first apprenticeship program in the country that works specifically with recovery coaches.

"The Recovery Coach Apprenticeship is an excellent example of how Care New England is using the model to develop career pathways and give people with lived experience an opportunity to upskill to a livable wage job," said Andrew Cortés, Director of Apprenticeship RI and Building Futures. "Apprenticeship provides the structure and engagement for recovery coaches to succeed at the next level as Licensed Alcohol and Drug Counselors."
19 people are currently enrolled in the program.

photo: Anchor Director Deb Dettor (right)