Posted: Wednesday, January 31, 2018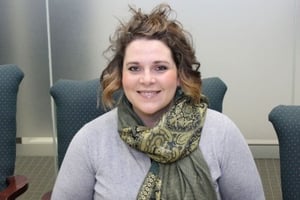 The Providence Center's Recovery Navigation Program (RNP) provides a space where people who misuse alcohol can stabilize and get connected with treatment resources. Now open for just over a year, the program is seeing successes in its mission to lend a helping hand to this complex and historically underserved population.
The program is partly designed to lessen the burden on local Emergency Departments (EDs), where so-called "chronic inebriates" are checked in, stabilized, discharged, and often readmitted shortly thereafter for the same issue, sometimes multiple times a week. Located above the Diocese of Providence's Emmanuel House shelter on Public Street in Providence, RNP gives people a safe, comfortable place to sober up, as well as some food and a place to shower.

What RNP does differently is to guide people toward the right help for their addiction, should they be interested. "When people with alcohol use disorders go into the ED, they are kept until sober, then are discharged with no aftercare or connection to treatment, and will likely find alcohol again to avoid withdrawal or depression," said program manager Lauren D'Andrea. "The piece that we add is to talk to people about their next steps, and possibly provide them with some treatment resources."

In the year 2017, the RNP program had 836 intakes, with the latter half of the year showing a higher number, and about 200 referrals to treatment. The success is due to the hard work of RNP staff led by D'Andrea, who, in addition to overseeing the day-to-day operations, is responsible for building the connections in the community to help provide a better path for people. "I work with other care providers like clinics, Emmanuel House and other shelters, and centers that provide Medication Assisted Treatment (MAT) to figure out the best ways to get our clients' needs met by building connections and trying to streamline the referral process," said D'Andrea.

The program started as a partnership to accept ambulance drop-offs from Providence Emergency Medical Services (EMS), but has expanded to include drop-offs from Cranston and Central Falls, and is exploring a relationship with Pawtucket. Some intakes at RNP come from ambulance drop-offs in this "traditional diversion" model, but the program has grown to accept people from other sources like walk-ins, and referrals from TPC's Anchor MORE outreach program and other community organizations like Crossroads.

People coming into the program must be inebriated, but cannot be medically compromised or be experiencing alcohol withdrawal symptoms that require medical treatment. Though the program focuses on alcohol, people with co-occurring substance use disorders are also accepted into the program. RNP is open 12:30-11PM, 7 days a week, and the staff consists of a nurse, case manager, security guard, and a peer recovery specialist, as well as an intake coordinator that works five days a week, and a physician on call for consultations.

Strain on EDs from alcohol-related intakes is an issue in many communities, and a diversion program in the Providence area had been talked about for years before RNP's opening. A report submitted to the Rhode Island State Senate in February of 2012 by a special commission to study the issue found that the current system was "faced with an over utilization of high-cost services stemming from high levels of non-urgent behavioral health usage that could be more effectively treated in alternative settings." The report's recommendations, including the creation of an "approved alternative facility under the authority of the Department of Behavioral Health, Developmental Disabilities, and Hospitals (BHDDH), with clear parameters and outcomes," served as part of the early guidelines for the program.

Getting the program off the ground was a collaborative effort, and required the cooperation of state agencies RI BHDDH, the Rhode Island Department of Health, and the Rhode Island Executive Office of Health and Human Services. There were many issues to sort through, including developing a model that would not be not based on the traditional fee-for-service model. One of the authors of the 2012 study was State Senator Joshua Miller, whose advocacy has been a large part of getting this pilot program off the ground.

Currently a focus for D'Andrea is finding ways to address barriers to treatment, two of the biggest being bed availability in other community programs, and medical clearance, the process of ensuring that individuals don't have underlying medical issues that would make it unsafe to serve them in community settings. She is looking at data from the program to see what they can do to reach out to more people in the future.

And, as in many areas of behavioral health, stigma is a hurdle. "Many in the general population still don't understand why these resources are necessary, and think alcohol use disorders are a choice," said D'Andrea. "In the majority of cases, the clients we see are using alcohol or other substances to cope with some sort of trauma."

Looking ahead, D'Andrea wants to find more ways to meet the needs of the community, including expanding the hours of operation. She collected data from Rhode Island Hospital for the morning hours (8AM-12:30 PM) in which the RNP program is closed. For June, July, and August of 2017, 98 people checked were admitted for intoxication.

"To us, this represents 98 potential opportunities to help someone find a better direction," said D'Andrea. "Recovery rarely happens on a schedule, and we'd like to be able to be there at the moment people are ready."

To find out more about RNP, please email Lauren D'Andrea at ldandrea@provctr.org.