Posted: Tuesday, April 18, 2017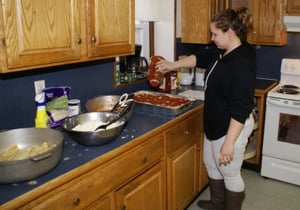 "A simple trick is to put salt in the water to make it boil faster," says Michelle Hevey, a residential case manager at The Providence Center's Atwood St. group home in the Silver Lake section of Providence. This afternoon she is teaching a group of three male residents to prepare dinner for the whole facility as part of an instructional cooking group she runs every week. Tonight's menu: two-meat lasagna, salad with vegetables, and crescent rolls.

While listening to the radio (preferred station: WHJY), the men cook the meat, boil noodles and peel cucumbers, while Hevey instructs and oversees. The men are engaged in the process and enjoy preparing the food, chatting while they do it.

Atwood St is a 16-bed, all-male facility with 24-hour supervision. The men here are referred here from a variety of sources, like TPC's Community Support Teams and state psychiatric facilities like Eleanor Slater Hospital. Many have lived on their own, but have had trouble with it or don't properly manage their medication, so they've returned to the group home setting.

Chris Jordan, Atwood St.'s manager, came up with the idea of the cooking group as a way to teach residents important life skills. Jordan created a scoring system called the Transitional Criteria Scale (TCS) to determine whether or not residential clients can transition to a lower level of care. TCS categories include budgeting, shopping and meal preparation, and responsibility, all of which are incorporated into Hevey's instructional group.
"I feel that it's our responsibility to help ensure that our clients can successfully leave our facility with the learned skills and tools needed for independence," said Jordan. "Michelle took the cooking group idea and has worked to make it into an extremely valuable program for our residents."

For the most part, Hevey's group has gone over very well. "A lot of the guys have really surprised me with how strongly they've taken to the cooking," said Hevey. "For some of the jobs, people have to share because more than one wants to do it." The most experienced cook of the group, who prefers his pasta al dente, stirs the noodles and determines they are almost ready.

One of the other men looks forward to the group and enjoys learning new techniques he can apply to his own cooking. "When I had cooked for myself in the past, it was always really bland, like a chicken breast with no seasoning," he said. "It's been great to learn about how easy it is to find a recipe and make the basics taste much better." His favorite meal they've prepared so far were calzones.

Michelle also runs a weekly shopping group, where she takes the group members to shop for the ingredients they will later use in the cooking group, so that they are involved in the process from start to finish. "I can teach them about budgeting for groceries, and pricing ingredients out by looking at the unit price," said Hevey. "I also try to teach them how to pick fruits and veggies based on the freshness, and about reading the nutrition labels. The more hands-on, the better."

Hevey considers several factors when selecting the meals for the group. "Often I'll have the guys think about what their favorite meal is, or what they liked to eat growing up," said Hevey. "They don't often get a lot of say as to what they eat, so I try to involve them in the process."

Health is also a consideration. Hevey likes to make meals that use different seasonings to provide the flavor, instead of just salt, like in many prepared foods. This lasagna calls for garlic powder, parsley flakes, and Italian seasoning. She also looks for easy substitutions that can make the meals healthier, like ground turkey in favor of beef.

"It's time for the hard part," one of the men says. Now that the prep work is done, they need to layer the lasagna noodles, sauce, and meat, and bake it for about an hour. Hevey and the group members agree: it looks like this meal will have enough for leftovers.